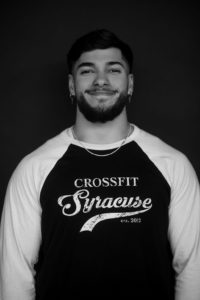 Javier Arencibia
Coach & Personal Trainer
Growing up I had a passion for dance. Crafting my sport for ten years at a dance studio, I performed all over the country and even had some opportunities to compete abroad. I loved every second of it! What I loved most though was the competitive aspect, getting in front of another competitor and trying to beat them.
As I got older I started to drift away from dance and began to feel like something was missing in my life. I felt like I almost didn't have a purpose anymore. But then, I found something new! I began to travel while modeling kids clothing on the runway. Eventually, agencies wanted to take swimwear pictures — something I wasn't a fan of because I didn't want to take off my shirt in front of people. So what did I do? I began to workout! I did 100 push-ups, 100 sit-ups and 100 air squats everyday while adding in a run a few times during the week. I began to love working out and started to see some change in my body which built my confidence. While I was modeling I started to enjoy the process of working out way more than actually modeling.
In 2016, a documentary on Netflix called " Fittest On Earth " came out. My father and I decided to watch it and I instantly fell in love with what I saw. I was so mesmerized by the level of fitness these men and women were displaying in this documentary. Just a few weeks later I told my mom that I wanted to stop modeling and that I needed to try this new thing called CrossFit. In the summer of 2016 I dropped into what was called CrossFit Syracuse at the time and took a class. I was able to feel that competitiveness that I'd been missing so much since dancing. For the next five years, I worked hard to get better at the sport of CrossFit with the help of other coaches at the gym.
Fast forward to 2021, Syracuse Sweat Club has had such a big and positive impact on my life that I decided to take my CrossFit level 1 test and became a CrossFit Level-1 Trainer. I'm extremely grateful to be part of this beautiful community and excited to grow as a coach and person alongside the members!